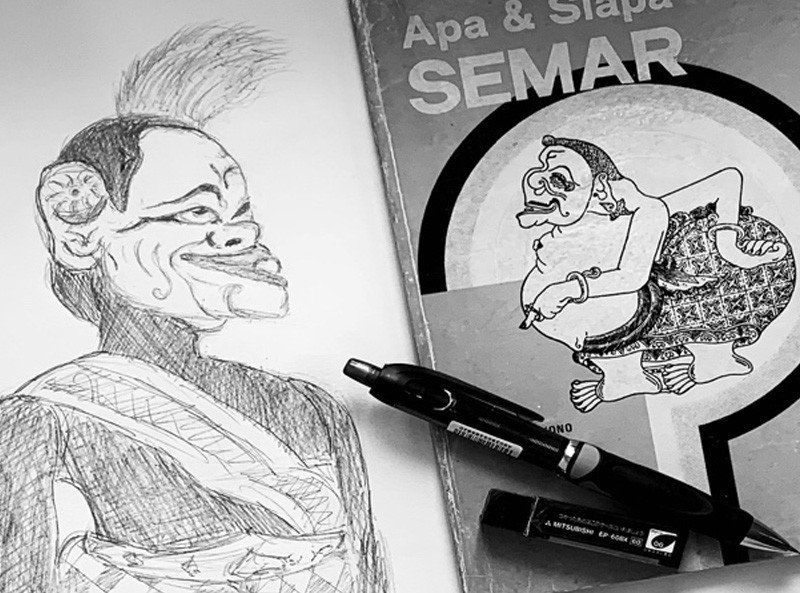 Tutor
Hanny Wijaya
Associate Professor and the Head of Internationalization and Partnership at the School of Design, BINUS University, Indonesia

Co-tutor
Amarena Nediari
Full time Lecturer and Coordinator for Enrichment Program at Interior Design Dept., School of Design, Binus University
Ákos Hutter
Full professor of the Institute of Architecture at the University of Pecs, Faculty of Engineering and Information Technology in Pecs, Hungary
Keywords
Well-being, Interpretation, Uncertainty, Value, Culture
Professional direction
Interdisciplinary (cultural studies, conceptual design, illustration, spatial design, visual communication design, interior design, etc)
Topic Description
Semar is one of the panakawan (clowns), a character in Javanese mythology who frequently appears in wayang theatres. He is a divine and very wise character and is said to be the god Sang Hyang Ismaya in human form. The name Semar is derived from the Javanese word 'samar' which means obscure, dim, or mysterious. The figure of Semar is suitable with the name, a mysterious character. His face looks feminine like a female, although he has a body of a male. Semar is a charming character, although he is far from beautiful of handsome physically. He has a puzzling facial expression with a smiling lip and crying eyes. Regarded as the most sacred figure of wayang, Semar is considered as the symbol of life and the dhanyang (guardian spirit) in Javanese society.
Inspired by Semar character, this project aims to explore the context of our life; the obscure and uncertain situation that we feel during Covid-19 pandemic. Although Semar is a representation of Indonesian culture, his life philosophy holds a universal value. His wise and peaceful character represents an ideal harmony of our well-being. The project would like to encourage participants to explore and discover the concept and context of life balance (physically and mentally) during this hard time (self-quarantine, physical distancing, work from home, etc.) that has changed our life considerably. They also can try to find the connection of Semar character contextually with mythology or folk stories from their home countries and interpret it into the contemporary context of life balance and well-being in art and design perspective.
Participants are required to work in small groups during the workshop. They will discuss and exchange ideas with people from different background studies and different cultures. Conceptual and contextual findings will be implemented to their own art and design expertise. The final outcomes will be diverse, which represent the collective thoughts and contemporary ideas of participants.
Output results
various artworks based on concept and interpretation: prototype either 2D or 3D objects, art and design ideas (presentation, poster, infographic), concept of space design (self-reflection, meditation, public space)
Schedule
Research Phase (19 – 21 September 2021)
- Project Brief and Documents
- Assignment of Tasks (literature review, visual observation, and other resources)
- Brainstorming and Group Discussion
Draft Design (22-23 September 2021)
- Draft Concept and Implementation of Ideas (tutorial and feedback)
Intermediate Review (24 September 2021)
- Submit PPT and draft design according to the guidance
Finalizing the Design (25-28 September 2021)
- Artworks Production or Prototyping
- Promotional Video and Poster (concept and visual)
Final Submission (29-30 September 2021)
- Submit the Final PPT, Video and Artworks
Final Review (10 October 2021)
- Report PPT, Video and Artworks according to the guidance
References
Brainstorming Techniques: How to Innovate in Groups

指导老师
Hanny Wijaya,印尼建国大学设计学院国际项目合作处处长、副教授

协同导师
Amarena Nediari
印尼建国大学设计学院室内设计系全职讲师,强化项目合作者
Ákos Hutter
匈牙利佩奇大学建筑学院工程和信息技术学院正教授
专业方向
跨学科(文化研究、概念设计、插画、空间设计、视觉传达设计、室内设计等)
工作坊课题说明
Semar是爪哇神话中的小丑角色之一,经常出现在哇杨剧院(Wayang Theatre)。他是一个神圣和非常智慧的人物,据说是Sang Hyang Ismaya神的人类形式。Semar这个名字来自爪哇语"samar",意思是模糊的、昏暗的或神秘的。这样一个神秘的人物形象与Semar这个名字很相配。他的脸看起来像女性,但有一个男性的身体。他的外表算不上英俊,但却格外迷人。人们难以理解他的表情—微笑的嘴唇和哭泣的眼睛。Semar是爪哇社会中最神圣的人物,是生命的象征和守护灵。
受Semar的启发,这个课题旨在探索我们生活的背景。我们在新冠疫情期间所感受到的模糊感和不确定感。虽然Semar是印尼文化的代表,但他的人生哲学具有普世价值。他智慧和平和的性格代表了我们理想的福祉。在疫情期间,我们生活的平衡点发生了极大的转移,本次的课题希望鼓励参与者探索和发现在这段艰难时期(自我隔离、身体距离、在家工作等)身体和精神的改变。参与者也可以找到Semar与自己国家本土神话和民间故事之间的联系,并将其阐述于艺术和设计视角下的当代生活平衡与福祉的。
学员将以小组的形式参与到工作坊中,进行不同的知识背景和文化背景的碰撞,将概念与背景分发现应用在自己的艺术与设计专业知识中。期待最终产出多样化,同时展现集体性思维与参与者当代思想的成果。
产出结果
基于概念和诠释的多种艺术品: 2D或3D物体原型、艺术与设计概念(展示、海报、信息图)、空间设计概念(自我反思、冥想、公共空间)

本站的部分案例配图来源于网络,由于溯源困难无法取得所有案例的图片授权,在此对原图片拥有者表示歉意!我们不会贩卖案例图片获取任何利益,如侵犯到您的权益,请与我们联系!
On this website, we used some images from the internet. We didn't manage to get permission from all the owners due to communication channels. We apologise to the owners of the pictures. These images were never used in any profitable way. Please contact us if you need to removed the images!