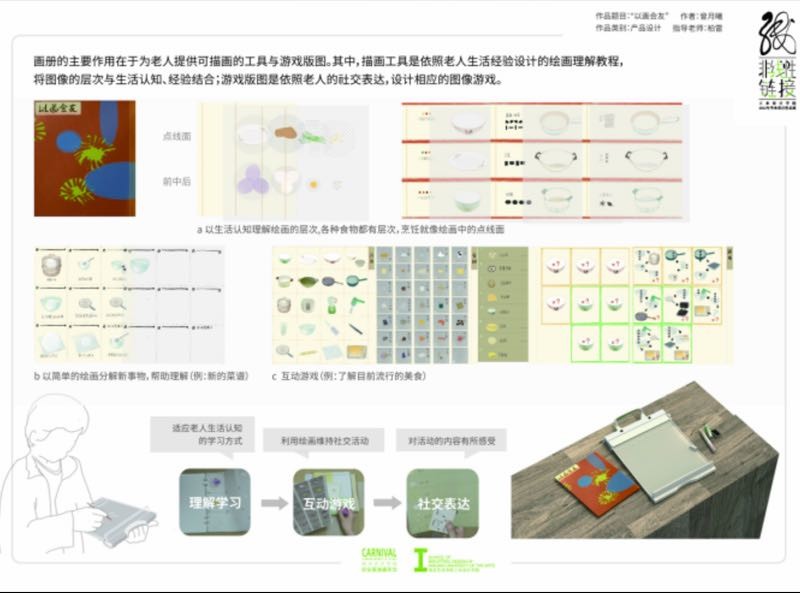 指导老师
柏雷 副教授,英国Kingston大学,设计与建筑系硕士;台湾成功大学,创意产业研究所博士

协同导师
江加贝,南京艺术学院工业设计学院产品设计系专业副教授。主要研究方向:服务设计、适老化设计、用户研究
工作坊课题说明
中囯当下的社会老龄化程度已经以各项严峻的数据体现出来,这种情势的具体影响已经体现为结构性问题。我们当代的设计教育基本根植消费设计,它在面对结构性社会需求时已显不足。Arthur Kleinman(哈佛大学)团队在社会科技方法中提出社会运行和文化环境两个主要方面的综合选择和综合发展。在多学科团队的合作研究中找到问题的根源,并制定基于个人、家庭和社会的解决方案来面对一系列问题。我们基于此提出"Social Product Design"的方法,并在江苏省产业技术研究院的适老科技创新中心的一些列项目中实践运用,本次课程也是该课题持续研究实践的一部分。
指导计划
调研阶段(0916-0919)
-任务布置(收集案例、查阅归纳文献)
-初步梳理草案
草案设计(0920-0922)
-发掘当前公共产品设计的难点及价值点?
-草案设计是否具备传播价值?
深化设计(0924-0928)
-制作产品或服务的设计方案
-制作相关宣传视频
参考案例
1]RMurray,JCaulier-Grice,GMulgan.THEOPENBOOKOFSOCIALINNOVATIONSOCIALINNOVATORSERIES:WAYSTODESIGN,DEVELOPANDGROWSOCIALINNOVATION
2]凯博文.《照护》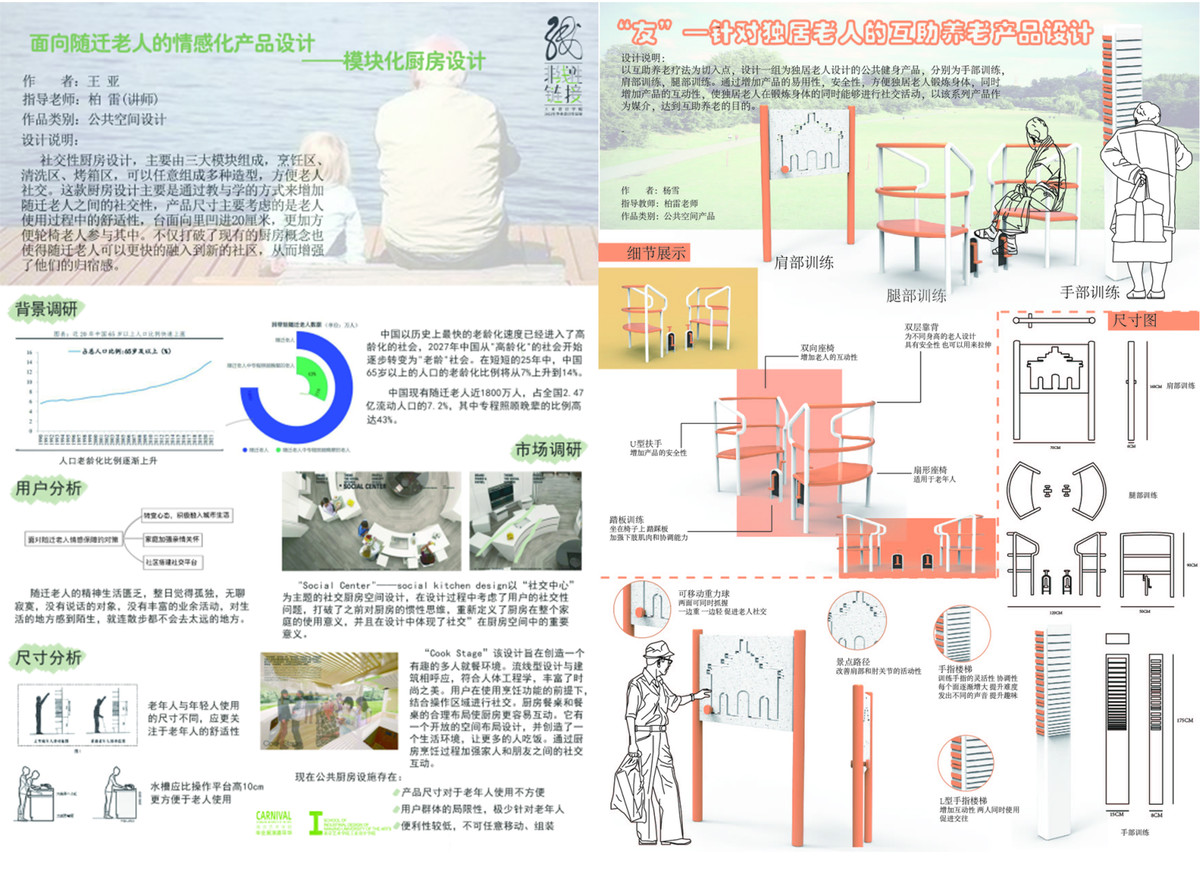 Tutor
Lei Bo, Associate Professor
M.A. in Design and Architecture, Kingston University, UK; Ph.D. in Creative Industries, National Cheng Kung University, Taiwan

Co-tutor
Jiabei Jiang
Associate Professor of Product Design Department, School of Industrial Design, Nanjing University of the Arts. Main research directions: service design, aging-friendly design, user research
Keywords
aging, public product design
Professional direction
product design, interaction design
Topic Description
The current aging of Chinese society is reflected in grim statistics. The concrete impact of this situation is already reflected in structural issues. Our contemporary design education, largely rooted in consumer design, is inadequate in the face of structural social needs. Arthur Kleinman's (Harvard University) team proposes an integrated choice and development of the two main aspects of social functioning and cultural environment in a social technology approach. In a collaborative multidisciplinary team approach, we identify the root causes of problems and develop individual, family and social solutions to a range of problems. This course is part of the ongoing research and practice of the "Social Product Design" approach, which is being applied in a number of projects of the Center for Age-Friendly Technology and Innovation of the Jiangsu Institute of Industrial Technology.
Output results
product prototype solutions, experience and service solutions, promotional videos
References
1]RMurray,JCaulier-Grice,GMulgan.THEOPENBOOKOFSOCIALINNOVATIONSOCIALINNOVATORSERIES:WAYSTODESIGN,DEVELOPANDGROWSOCIALINNOVATION
2]Bowen Kai.《Zhaohu》
本站的部分案例配图来源于网络,由于溯源困难无法取得所有案例的图片授权,在此对原图片拥有者表示歉意!我们不会贩卖案例图片获取任何利益,如侵犯到您的权益,请与我们联系!
On this website, we used some images from the internet. We didn't manage to get permission from all the owners due to communication channels. We apologise to the owners of the pictures. These images were never used in any profitable way. Please contact us if you need to removed the images!