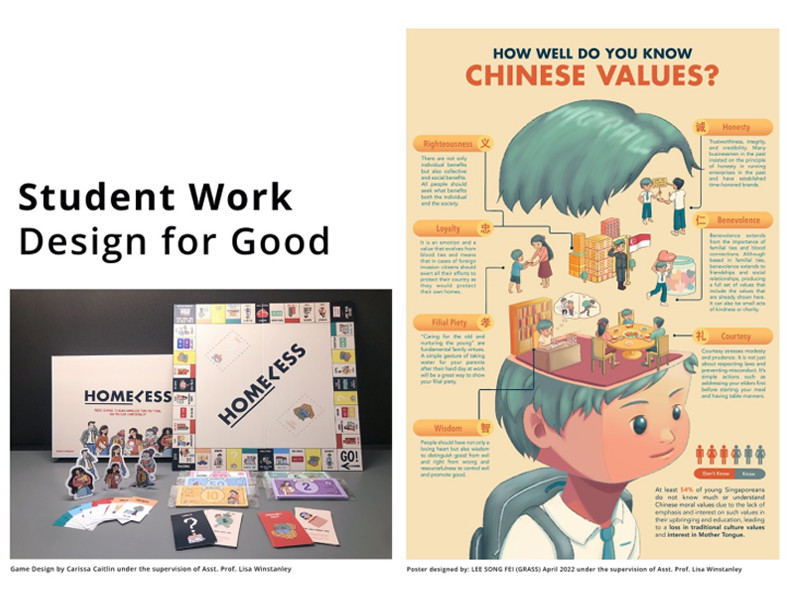 Tutor
Lisa Winstanley
Lisa Winstanley is an Assistant Professor in the School of Art Design & Media at Nanyang Technological University in Singapore

Keywords
Design-for-Good, Graphic Design, Data Visualisation, Social Issues, Ethical Design, Participatory Design, Design Research Methods
Professional direction
Graphic Design
Topic Description
In today's ever-changing society, we face many issues that affect us both individually and on a societal basis. Therefore, this workshop invites you to consider how visual communication design can make a difference in these issues. Raising questions such as: are we, as graphic designers, able to make a difference in the world? What areas and challenges do we face where design can positively impact? What is important to you as a designer and the society you live in. Consider these questions from technological, sustainability, political or cultural perspectives. Reflect on your role as a designer and explore how your creative practice can connect to design for good. You'll be asked to consider the current societal/cultural issues that are important to you. This could be something very personal or on a larger global scale. This workshop asks you to explore what those issues might be and to conduct a body of research to:
- Define the problem/challenge
- Identify whom it affects and how
- Undertake a series of design research methods
- Provide examples of current research into existing design solutions
- Conduct primary research to uncover a more profound understanding from the user's perspective.
- We'll then Explore what interventions could be made to improve the identified issue, synthesise the data you have collected and visualise that information in a format that's easy to consume. During this project, we'll consider various methods of data visualisation, and it's up to you to decide how you best can convey complex data to inform your identified target of the issues you have unsurfaced.
Output results
Infographic poster designs addressing critical social and cultural issues, and a deeper understanding of societal issues, presented as a portfolio of secondary and primary research (format to be determined by the participant)
Schedule
Session 1: Social Issues in Design
Introduction to workshop, Participatory design exercises
Monday September 20(th)
4 hours

Session 2: Primary V's Secondary Research
Cut & Paste Case Study
Intro to mind mapping
Tuesday September 21st
3.5 hours
Session 3: Focus on Primary Research Methods
What does it mean to be a graphic designer in 2022?
Research Methods:
• Interviews & Focus groups
• Role-playing
• Visual methods
Wednesday September 22(nd) , 3.5 hours

Session 4: Defining a Target Audience
Present research problem statement
• Creating a user persona
Iliekit case study
Friday, September 24th, 2 hours

Session 5: data Visualisation
• colour studies
• type Studies
Art of data visualisation: Infographics and data vis
techniques
Monday September 27(th), 3 hours

Session 6: Ideation
Worldviews, design thinking, and Brainstorming
Wednesday September 29(th), 2 hours

Session 7: Group Crit
Feedback on primary research, colour and type studies
Thursday September 30(th), 2 hours

Session 8: Studio Session
Independent design work / one on one feedback
2 hours(feedback timings tbc)
Session 9: Learnings + Unlearnings
Final Presentations & feedback
Learnings + Unlearnings
Friday September 31st, 2 hours
References
https://www.lisawinstanley.com/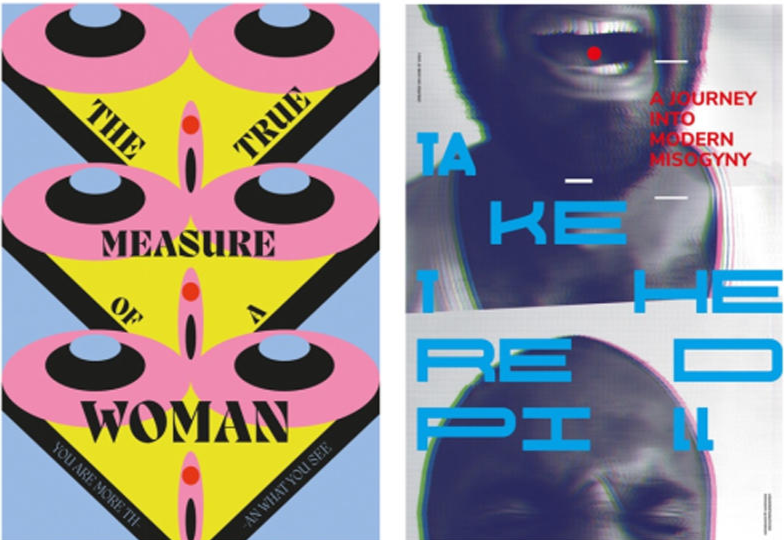 指导老师
丽莎-温斯坦利
丽莎-温斯坦利是新加坡南洋理工大学艺术设计与媒体学院的一名助理教授

指导院校与网站
南洋理工大学
https://www.ntu.edu.sg/
关键词
设计向善,平面设计,数据可视化,社会问题,道德设计,参与式设计,设计研究方法
工作坊课题说明
在今天这个不断变化的社会中,我们面临着许多影响我们个人和社会的问题。因此,本工作坊邀请你考虑视觉传达设计如何在这些问题上有所作为。提出的问题包括:作为平面设计师,我们是否能够为世界带来改变?我们的设计可以在面临的哪些领域和挑战中产生积极的影响?作为一个设计师,什么对你和你所生活的社会是重要的。从技术、可持续性、政治或文化的角度考虑这些问题。反思你作为一个设计师的角色,并探索你的创意实践如何能与善的设计联系起来。你将被要求考虑当前对你很重要的社会/文化问题。这可能是非常个人化的东西,也可能是更大的全球规模。这个研讨会要求你探索这些问题可能是什么,并进行一系列的研究。
- 界定问题/挑战
- 确定它影响了谁以及如何影响
- 采取一系列的设计研究方法
- 提供当前对现有设计方案的研究实例
- 进行初级研究,从用户的角度发掘出更深刻的理解。
- 然后,我们将探讨可以采取哪些干预措施来改善所发现的问题,综合你所收集的数据,并将这些信息可视化为一种易于理解消化的方式。在这个项目中,我们将考虑各种数据可视化的方法,由你来决定如何最好地传达复杂的数据,以将你所暴露出的问题告知你所确定的目标。
产出结果
解决关键的社会和文化问题的信息海报设计,以及对社会问题的深入理解,以二级和一级研究的组合形式呈现(格式由学员自己决定)
参考案例
https://www.lisawinstanley.com/
本站的部分案例配图来源于网络,由于溯源困难无法取得所有案例的图片授权,在此对原图片拥有者表示歉意!我们不会贩卖案例图片获取任何利益,如侵犯到您的权益,请与我们联系!
On this website, we used some images from the internet. We didn't manage to get permission from all the owners due to communication channels. We apologise to the owners of the pictures. These images were never used in any profitable way. Please contact us if you need to removed the images!